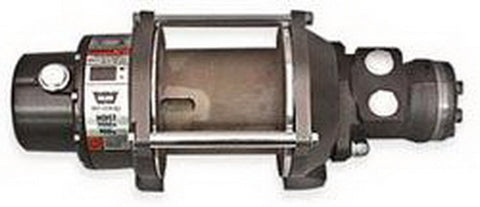 HY2000 - Industrial Hydraulic Hoist - 2000 lb. Capacity
---
The HY2000 hoist combines a powerful and efficient hydraulic motor with robust sealing and our proven 2-stage all metal geartrain. Permanent grease lubrication means years of trouble free service. All WARN hoists incorporate an automatic mechanical brake that holds full rated load. The durable powder coated finish stands up to the elements and looks great. The HY2000 hoist is built on a compact midsize frame with integrated tie bars that's easy to install.



HY2000 SPECS/PART NUMBERS
Part Number: 68032
Rated Capacity: 2000 lbf (907kgf)
Drum Barrel Diameter: 4.25 in (108 mm)
Drum Flange Diameter: 6.25 in (159 mm)
Distance Between Flanges: 4.5 in (114 mm)
Recommended Maximum Wire Rope Diameter: 1/4 in (6.4 mm)
Recommended Wire Rope Breaking Strength: 7000 lbf (3175 kgf)
Approximate Shipping Weight: 40 lbs. (18.1 kg)
Duty Cycle (intermittent per SAE J706 section 6.2): N/A ft (N/A m)
Mounting Bolt Torque: 32 - 34 ft*lbf (43 - 46 N*m)
Maximum Layers of Wire Rope: 2
Gear Reduction: 26:1
Brake Type: Automatic Cone
Standards Compliance: 
CE Machinery Directive 98/37/EC and 2006/42/EC
ASME B30.5
ACCESSORIES
Wire Rope Assy-1/4" x 60ft: PN 71297
Wire Rope Assy-1/4" x 50ft: PN 24891
Wire Rope Assy-1/4" x 40ft: PN 24890
Wire Rope Assy-1/4" x 25ft: PN 24889
PERFORMANCE BY LAYER
Drum Layer
Line Load *
Line Speed at 10 GPM
Drum Capacity
lbf
kgf
kN
ft/min
m/min
ft
m
1
2000
907
8.9
46.0
14.0
20
6.1
2
1800
816
8.0
52.0
15.8
43
13.1
* Never exceed the Rated Capacity. Installation of a Rated Capacity Limiter is recommended.
FIRST LAYER PERFORMANCE
Line Load
Pressure Drop
at 5 GPM
Pressure Drop
at 10 GPM
Duty Cycle
lbf
kgf
psi
BAR
psi
BAR
min/10min
0
0
85
5.9
400
27.6
Continuous
500
227
275
19.0
500
34.5
Continuous
1000
454
495
34.1
691
47.6
6.0
1500
680
710
49.0
878
60.5
3.0
2000
907
900
62.1
1065
73.4
2.2
---
---
We Also Recommend